You're trying to work, but you're stumped.
You've been sitting too long. You're pulling your hair out. Nothing's working. You're hating everything you do.
You need a pick-me-up. Something to snap you out of it, or more appropriately, INTO it.
So what do you do?
See this guy: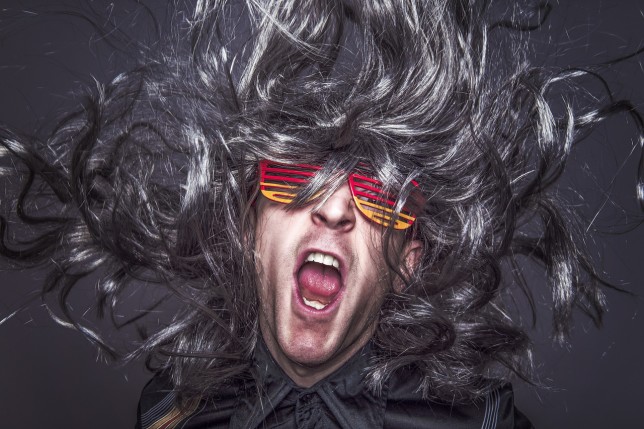 Yeah, well, it's something like that.
I put on my headphones, and I choose a big, loud, ferocious tune, and I turn it way, way up.
This generally leads to dancing, so you might want to go somewhere by yourself first if you're not a dancing in public kind of person. (Although if you're not, why not? How can I help you with that?)
I love the power music has to almost instantly change my mood and mindset. It comes in handy when I need a quick boost.
Here are a few of my favorite pick-me-up songs I use when I need to get moving:
Queen – "I Want It All"
Um, yeah. Don't you? Listen to this one first thing Monday morning for a great week.
Peaches – "Boys Wanna Be Her"
No comment.
Dragonette – "Giddy Up"
When you need to be off to war.
For when the people are talkin boutchya like they know all aboutchya.
Ivy Levan – "The Dame Says"
Oh, Ivy. Lady Gaga wishes she had as much style and class as you. And, um, your voice, too, girl.
"Marjaani, Marjaani" from the Bollywood movie Billu Barber
Translations indicate that "marjaani" means something along the lines of "to hell with them" (those who don't understand their love)
Basement Jaxx – "What a Difference Your Love Makes"
Check out the feet! Are you dancing yet?
Marina and the Diamonds – "Are You Satisfied?"
Forever chasing the dream.
Mary J. Blige – "Work That"
They're gonna hate anyway, don't you get that? It's OK — show yourself some love.
What songs do you keep on your motivational playlists?