The Red Tree by Shaun Tan
My #1 picture book. Gorgeous, weird art accompanies a story of desperation and loneliness that blossoms into hope.
The Velveteen Rabbit by Margery Williams
One of few books from my childhood that I still love.
"Real isn't how you are made," said the Skin Horse. "It's a thing that happens to you. When a child loves you for a long, long time, not just to play with, but REALLY loves you, then you become Real."
The Heart and the Bottle by Oliver Jeffers
When a little girl loses someone she loves, she puts her heart in a bottle. Will anyone be able to help her take it out again?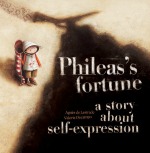 Phileas's Fortune: A Story about Self-Expression by Agnes de Lestrade, illustrated by Valeria Docampo
Phileas has trouble expressing himself, so he begins collecting words wherever he can. But sometimes they come out a bit garbled. Hopefully his love will understand …
Illustrator Valeria Docampo is a favorite.
What Do You Do With an Idea? by Kobi Yamada, illustrated by Mae Besom
I guess that's what we're all wondering around here, huh? Well, just you wait until you see the answer. It's a doozy, and too right.
Red Knit Cap Girl by Naoko Stoop
Naoko Stoop's little Red Knit Cap Girl stole my heart before she was in a picture book. Who could resist her and that floppy bunny that follows her everywhere?
(P.S. Naoko Stoop herself is pretty great, too.)