In my recent post 5 Scrivener Tricks You'll Love That You Didn't Know About, I promised you a full-length review of Joseph Michael's Learn Scrivener Fast.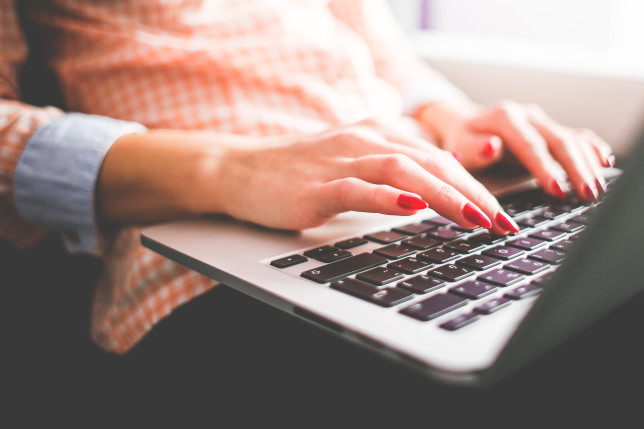 Readers asked me a lot of questions in response to my first post about Scrivener. When I first started with Scrivener, I didn't bother reading anything or taking any courses; I figured out the basics on my own.
Yes, as I've said before, this approach is world-renowned for being cheap. But you miss out on most of the cool features Scrivener has that can make your work easier. (I wrote about a few of them in 5 Scrivener Tricks You'll Love That You Didn't Know About.)
Worse, you miss out on essentials like: You need to use folders for the compile function to work properly. For two books I used only text documents, and then when I went to compile, disaster! Oops.
I had intended to read a book or take a course on Scrivener all along; I decided it was time. Normally for learning I prefer reading books to listening; I struggle to stay focused with audio learning. But when I tried reading a couple of Kindle e-books about Scrivener, I found myself unable to retain the information when I returned to working in Scrivener. For a while, I gave up and went back to ignoring what I didn't know.
After starting this blog, I decided to check out the options for courses instead.
The hands-down most talked-about one on the Internet is Joseph Michael's Learn Scrivener Fast.
The moment I visited the website, I was turned off. It has one of those I'm-going-to-sell-you-something landing pages that spends 1 billion Internet years of your time telling you how great the product is. Which of course makes me suspicious that it's not as great as that page is telling me. It also makes me wonder if this thing comes with an unreasonably hefty price tag.
Scroll, scroll, scroll through testimonial after testimonial from mildly famous Internet personalities … and lo and behold, it does, indeed, come with a hefty price tag. There are three levels:
Student, at $127
Rockstar, at $197
Ninja, at $297
Egad.
That's a lot of money for us broke creatives, even at the lowest level.
But unreasonable? I couldn't tell.
The Student level, at $127, only comes with the very basics. If that's all you want, you can probably take a course anywhere or use a book to figure it out. To find out if Learn Scrivener Fast was worth it, I knew I would have to get either the Rockstar level or the Ninja level. But $300? Could that possibly be worth it? I wanted to find out.
So I went for it and bought the Ninja level. Big-time cringing all the way.
I started the course with a certain amount of hostility. $300?!? You're going to get me to pay $300?!? I bet you aren't worth it! Stupid piece of *%$#@!
To top it off, they had some technical difficulties that meant I couldn't access the program right away. Grrr …
Not a great way to start learning.
But the technical difficulties got fixed, and I got in. The interface is clear and easy to use; it's broken down into five modules plus bonuses: basics, ninja tips and tricks, work smarter, Scrivener for blogging, and easy e-books. Within each module you'll find clear, easy-to-understand videos in which Joseph Michael explains one facet of Scrivener at a time. In this case I found that watching videos was a better way for me to learn, because I saw the action being performed in Scrivener in front of me, which helped me retain it. Plus, you get lifetime access to the course, so you can come back to it any time and re-watch a video. It's well organized, so it's easy to find whatever you're looking for, if there's something you've forgotten.
The course shares things I didn't know existed, even after having read several books and taken most of another course. Joseph Michael really knows the program inside and out. Plus, he doesn't skip steps. I LOVE that. Sometimes when people become experts in something, they forget what they needed to know when they were starting out, so they skip over stuff that's new to you or they go way too fast or treat jargon you don't know like it makes sense. But Michael created this program as he was learning Scrivener, so he's careful to go step-by-step and cover everything you need. I was especially impressed that in the compiling for Kindle section, he included the fact that you have to start by downloading Kindle Gen and Kindle Previewer. You have to do that first, and other tutorials I took skipped over that step.
Also included is a section on Evernote, which I started using recently just to keep track of notes, ideas, and all that random stuff I usually have on Post-It notes all over my apartment. He has a great section about how writers use Evernote to outline, do research for essays, and create character sketches, and then he shows you how to transfer stuff from Evernote to Scrivener. He also talks about using something called Markdown, which I hadn't heard of before, which is supposed to help make writing blog posts faster and more efficient. I'm all for that, so that's another thing for me to check out.
Michael explains how to work on your project from anywhere, even when you don't have access to Scrivener. This is something that held me back from using Scrivener for a long time.
I've been going through the course randomly based on whatever I was interested in, so I know I haven't covered everything yet. I got to this point of writing this post thinking, hey, so far it seems like this program has ALMOST everything I need. But there's one thing I haven't seen that I would like to: how to work with an editor in Scrivener. I'm about to start working with an editor on one of my novels in December, and although that novel is not yet in Scrivener, I'd like to put it there and use it for revision work, because I don't want to have to return to Word. For anything.
I was also thinking, at this point, that you would get all the value you needed at the Rockstar level of the course. Because of course you'd want the modules about compiling e-books and the ninja tips and tricks, as well as the blogging stuff if you're a blogger or thinking of being one. But I didn't think the bonuses were particularly useful …
Until I went looking for how to work with an editor in Scrivener, and found it … in the bonuses section. AND it's a mini course of its own, with 5 lessons, plus two bonus lessons. It's as though he read my mind. Unfortunately, however it means that if you want that part of the course, you're looking at the ninja-level price.
I ALSO discovered, as I explored the bonuses section, that you get free access to Sean Platt's course titled How to Plan and Outline Novels (Using Scrivener). Sean Platt is the co-author of Write. Publish. Repeat: The No-Luck-Required Guide to Self-Publishing Success, my favorite book about self-publishing that I've read so far. He writes with two other guys, and they write a lot of stuff fast. I don't have time to go through it quite yet, but I watched the intro video and loved seeing how they set up their documents in Scrivener and the depth of planning that they do before writing. It's a little intimidating! (And I'm a huge planner already.) But I'm excited to see what else Sean can teach me.
My stomach still curls at the thought of directing you to that squidgy salesy landing page. I know. I hate it.
But. I tried books. I bought and watched part of a course at Udemy. And the truth is, Learn Scrivener Fast taught me the most. It's easy to follow and includes everything I wanted to know about Scrivener. I wish it weren't so expensive, but as near as I can tell, it's the best thing out there.
So, Learn Scrivener Fast won me over, despite much resistance, and I recommend it.
You can get it here, at the squidgy, salesy landing page: